Interior design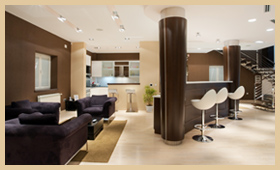 The Basement Renovation Group offers an interior design service. When a basement project such as a Bachelor apartment, a home theater or even the development of a professional office is planned it is worthwhile to invest slightly more in design in order to create maximum visual impact. We have in our Group interior designers to suit all budgets, from someone graduating at a reputed school in Montreal in interior design to the experienced specialist who has done the interior design of prestigious homes in California. Mr. Daniel Dargis, Engineer and general contractor since 1989, leads the group of design and basement renovation professionals such as: interior designers, architects, engineers and general contractors at your service for your basement project.


For some people to imagine and manage a design project with its shapes, colors and materials is easy. For others it can become a headache especially if we add to this the budget side of it. An interior design professional first helps you put your ideas into place according to your tastes and the budget of your basement project. He knows the materials available on the market and the prices well. Quickly, the interior designer will produce some sketches by hand and submit them to you for approval. The designer plan done before the plans will greatly help in:
making a more precise plan of the basement renovation with details of the materials to be used;
drawing up a more transparent contract between you and the contractor by adding sketches, a plan and specifications appended to the tender;
obtaining a more accurate submission with fewer contingencies;
knowing what to expect in terms of final outcome;
creating a more relaxed working atmosphere between you and the contractor knowing what you are looking for.
Whether it is for a home theater, a Bachelor apartment or another basement renovation project you are going to enjoy or that will allow you to increase your income, a designer has its place. The eye, the talent and experience of an interior designer will easily detect interior design elements to use in transforming the space in the basement of your dreams.
Do not hesitate to contact us!